Tier Ranking popular KPOP Songs of 2020
We getting back on KPOP. It's been a long time but KPOP never gets old…so
I AM GOING TO BE RANKING "POPULAR" KPOP COMEBACKS OF 2020
[These are personal thoughts and if I miss out on any, then apologies because there are so many that one cant put them all in one single blog.]
[Another thing, by popular I mean songs which were listened, streamed, and talked about during their comebacks. There might be other songs which one thinks are popular but this list is according to me…..so YA !]
[ANOTHER THING (gosh) is that there aren't many boy groups in this list reason being I don't listen to that many]
Now that we are finished with the formalities, let's jump on to the list
This is my Tier List before :
Take time to read all the criteria's
This is my Tier List after :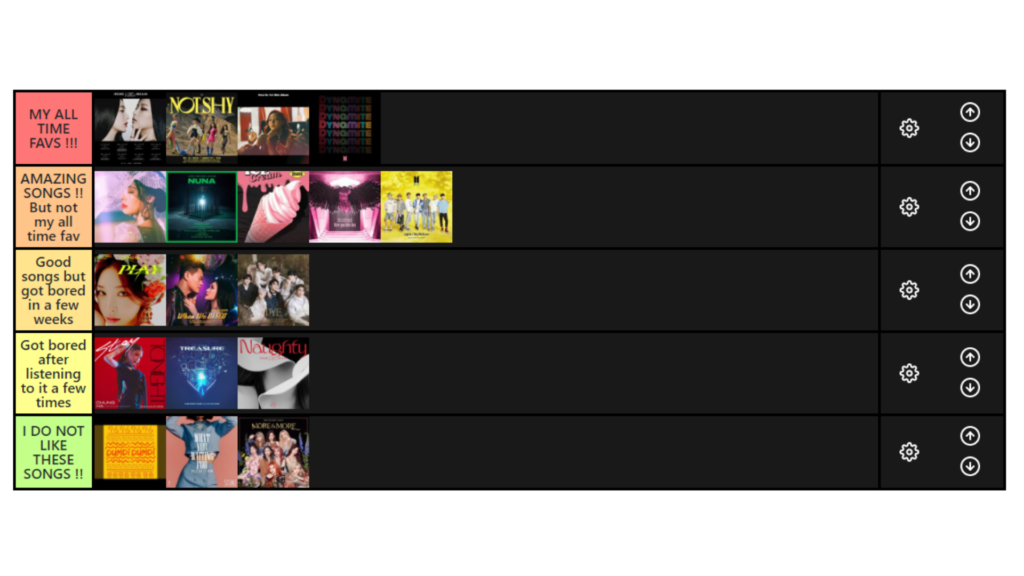 SONGS ON MY LIST:
"MY ALL TIME FAVS !!"
Monster
Not shy
Maria
Dynamite
"AMAZING SONGS!! But not my all time fav"
Porrapipam
Nunu Nana
Ice Cream
How You Like That
Boy With Luv
"Good songs but got bored in a few week"
Stay Tonight
Boy
Naughty
"Got bored after listening to it a few times"
When We Disco
Stay Tonight
Boy
"I DO NOT LIKE THIS SONG !!"
Dumdi Dumdi
What You Waiting For
More & More
I tried something different this time (Not New) and I am planning to write one blog like this per month to tier rank things, can be books or songs or any other thing
Looking forward to it ?
SUBSCRIBE TO MY MAILING LIST
(Don't forget to do that 🙂
So meet'ya Next time
Until Then
KEEP READING MY WRITING !!
TATA !!!