I did another MUN and this time… I WON !!
Ola amigos people !!!
I "forgot" to write my last week's blog post so apologies
But last to last week I had ANOTHER Online MUN and tis time, well, I was a blast !
This so cause :
I extremely well prepared
I had my position paper ready 2 days prior the MUN (so you can see that I had a lot of time left for extra prep)
My Agenda was SUPERB !!! [It was 'War Situations between India and China and the consequences if the war breaks out' if u were wondering]
I got an amahhzung country, Israel, resulting in loads and loads of info. One good thing with the portfolio Israel was that it is a neutral country and that gave me the freedom to speak what I desired. At some point, I used to defend India and next put allegation for the stuff they didn't do or did wrong. My stand was pretty clear, Israel would support whichever country it feels is doing right
2 DAYS BEFORE THE MUN I am preparing my position paper, and am very confident (see, not over-confident, just confident) and I am vibing the whole MUNy mood.
1 DAY BEFORE THE MUN I have submitted my position paper and now I am writing my opening speech. Also lobbying, basically time given to delegates to discuss what they are going to do on THE MUN day, has started.
Unlike last times, where I would COMPLETELY exclude myself from the lobbying session, this time I introduced myself and started being a part of the discussion.
IF U ARE TAKING PART IN ANY MUN, PUHLEEEEZE TAKE PART IN THE LOBBYING SESSION.
It makes you feel more comfortable and prepared for the MUN meeting. Being a part of the lobbying session also means that you can share your own topics, something that you know 'bout or something you have prepared. You can also form allies and talk to them for supporting you in the motions you raise and etc etc
D-DAY OF THE MUN I woke up not so super early as everybody else would, but I was SUPER excited.
We had some before-the-function-starts formalities, like speeches from I DONT KNOW HOW MANY PEOPLE (It was online so one can easily switch off the camera and doze of, to getlike, EXTRA ENERGY you know!!)
So after some serious blah blah, the committee started.
I dont know how EXACTLY to explain, but to give you a fair gist of the evnt, I PRESENT YOU SOME OF THE SPEECHES I SPOKE !!!
[Exclusively on melaidback.com !!!]
---
1. My opening speech (GSL)
This is what you speak as your entry statement. The topic for the opening speech is broad. I mean YOU HAVE TO STAY INSIDE THE AGENDA but you can talk about any sub agenda or any issue in particular related o the agenda. No boundation
Lemme remind you, my agenda was War Situations Between India and China and the consequences IF The war Breaks out
---
2. My Speech for the Moderated Caucus 1
So basically a MODERATED CAUCUS is where we talk about specific sub topics. There can be 3 to 4 Mod caucuses in a committee. The first one was about How trade is going to get affected by this standoff, and, here is what I spoke: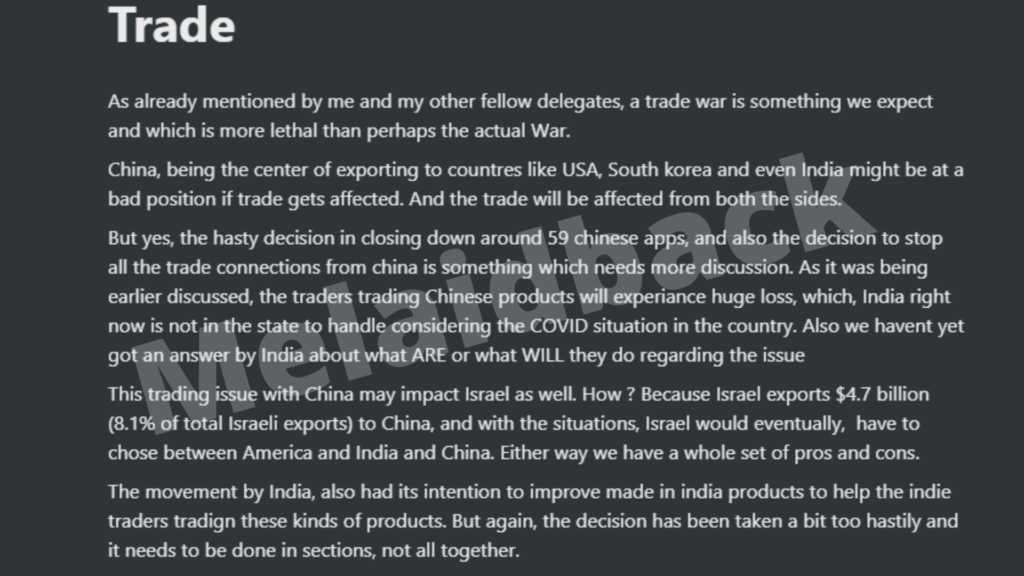 I was reading all of these after the committee and I coldn't help noticing HOW WELL I have started speaking and writing !!
This blog writing is REALLY REALLY helping me out these days 🙂
---
3. Crisis Speech
So a "crisis" is actually some great big news which pops in between an ongoing committee. The EB members read out the big news and the delegates have to share their views on it
I cant exactly remember the topic, but it was something like China sending troops to the ladakh border area, India too sending their troops and conflict arised due to this issue. Well this is what I SPOKE
MIND YOU, FOR THIS SPEECH WE ONLY GOT LIKE 6-7 MINUTES PREP TIME. I ALSO TOOK NO HELP FROM MY RESEARCH BINDER FOR THIS. ALL THE INFO IS THAT I REMEMBERED.
---
4. WORKING PAPER !!
Working Paper is made at the end of the committee. It is a document containing all the solutions that you propose.
This was mine:
AND………………..
THEN I RECEIVED THE BEST
POSITION PAPER AWARD !!!! WOHOOOOOOOO !!!
Lemme show you my position paper. It is a bit big (geez it is 3 whole pages !!) so take your time and read it 🙂
And THAT IS ALL !
I just had to share my THIS MUN experience cause, well I have written a few previous experiances but this one was a FRESH one considering (sorry to remind you again) I WON SOMETHING !!
But one very important thing to keep in mind is that one should chase knowledge and not awards or prizes or recognition etc.
soooooooo
MEET YOU NEXT WEEK
Until then
TA TA