Some apps, chrome extensions AND tips EVERY student needs to know (2020) !!
Yikes !

I cant believe I am writing on something related to school !!

But these days EVERY thing is being done online
and well
I am here with few a few apps, extensions and a little bit of tips and tricks on how to survive this pandemic school year
So legggoooo
1. OneNote by Microsoft
Number one on this list is OneNote. This is a note taking software by Microsoft
and people……
THIS IS A NECESSITY !!

This is an AMAZING app for students. I personally have been using it since the beginning of the 2020 school year.
The thing I love about it is:
a. It has a fairly easy interface, that is it doesn't require a tech genius to operate or use it.
b. It is THE. BEST. NOTE. TAKING. APP because of the variety of features it offers, amongst which I am listing few of my most used below-
i. It has a system of making Notebooks. And within Each notebook you have sub notebooks. And within EACH sub notebook, you have one more sub category.
Sounds complicated ?
See how I did it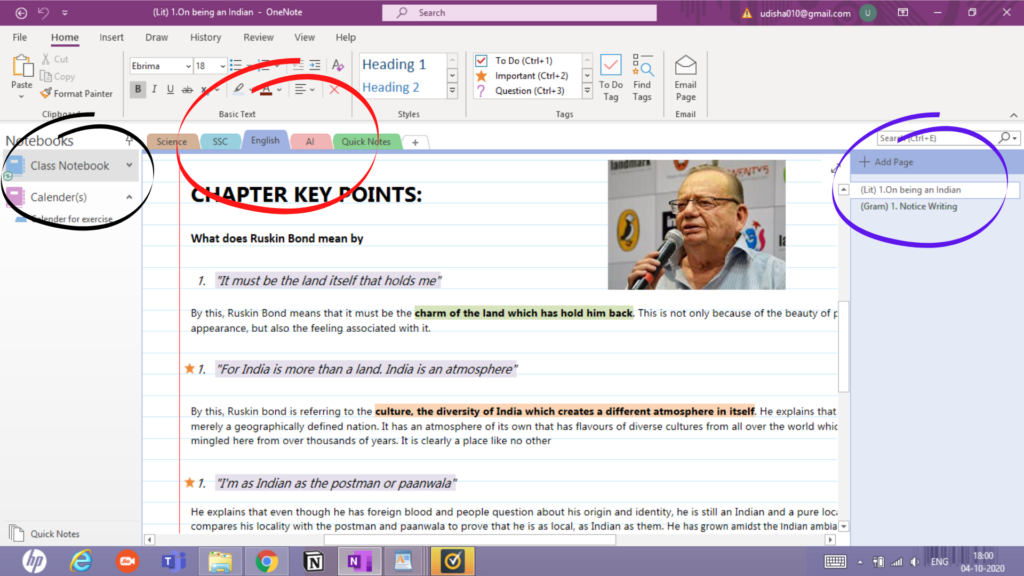 So you can see that the area circled in black, is the area where you make and keep notebooks
My suggestion would be to keep 1 notebook. Like I have, Class Notebook
THEN
The area circled in red are the sub category.
I suggest you put your subject there cause
THERE IS ONE MORE SUB PART or you to put in the chapters, that is, the one circled in blue.
SO THIS IS HOW I HAVE MAINTAINED IT
One noteboook (The Black circles area)
Then I have Subjects in the notebooks (The red circled area)
And then Chapters !! (The blue circled area)
Easy peasy!
ALSO ALSO
You can WRITE like HANDWRITE in Onenote with the help of stylus
SO COOL RIGHT !!!
It is better than ANY note taking app out right now
So if you still wondering
Go and Download it
and good thing
IT IS ABSOULTELY FREEEEEE !!!!!!!!!!!!!!!!!!
2. Momentum
This is a CHROME extension which I find is both AESTHETICALLY PLEASING, BEAUTIFUL and HELPFUL
Well the moment you open a new tab, it shows this pops up
Right below the time and greeting area, You have an area which tells you to wrute the MAIN focus of the day.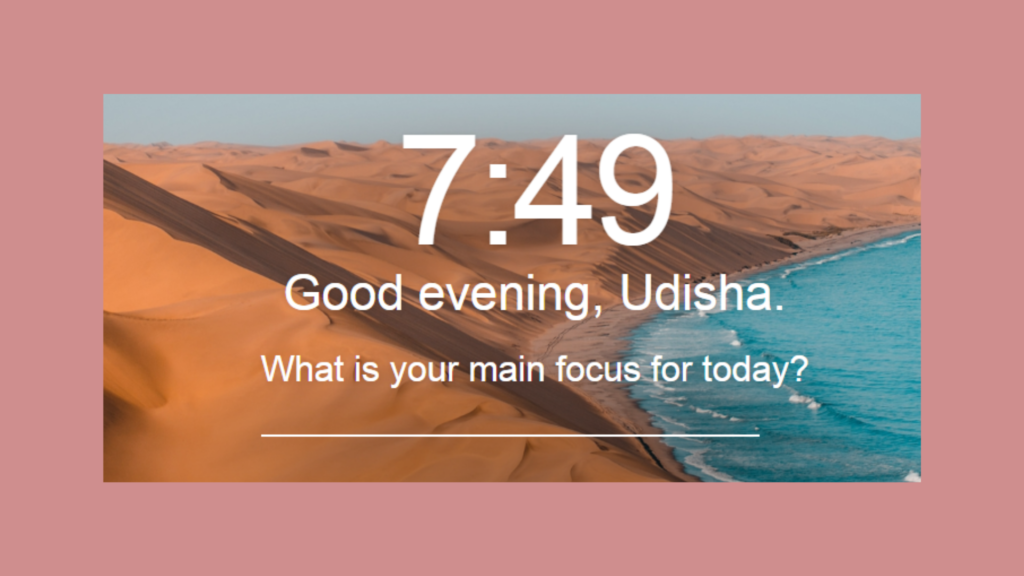 Then along side, it tells you to write down the other bunch of stuff you have to do in its TO-DO section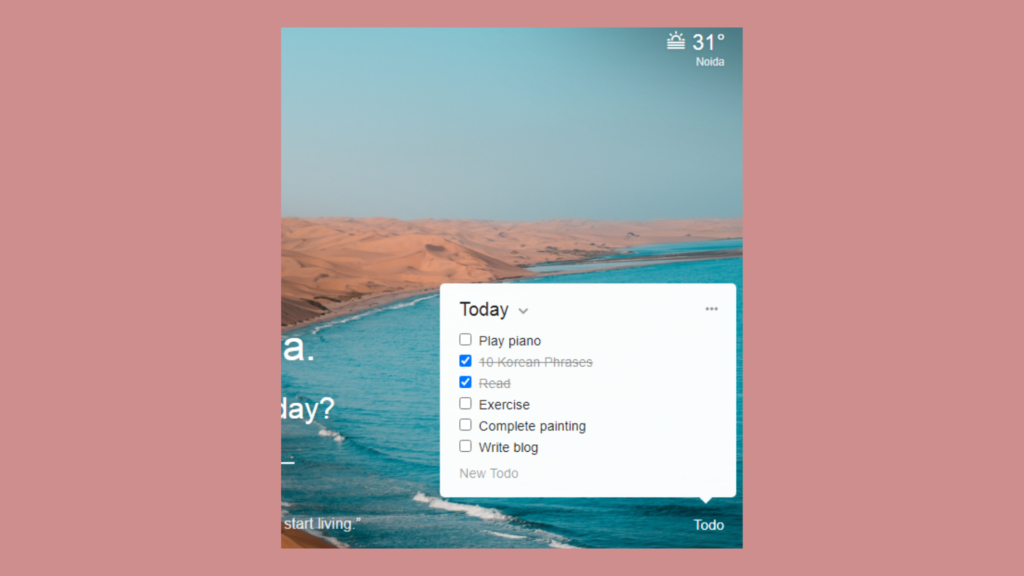 So it is really helpful that each time you open a new tab for something, you are reminded of the more important stuff you have to do that day.
Love it
and AGAIN It is free
(Actually all the stuff mentioned in this blog are free)
3. Grammarly
Grammarly is an excellent extension for students and basically, anyone who has to do a whole bunch of writing work
I have been using Grammarly since I started my blog
It corrects spellings, grammar mistakes basically EVERY WHERE.
Emails, WordPress, docs
EVERYWHERE
It is very convenient as it shows all the mistakes at one place so you dont have to check on them individually
CAUSE. IT. IT. IRRITATING !!

So highly recommended
Go check it out !!
4. Dark Reader
(I know the logo is kinda spooky but the app is great. Trust me)
I know that these days we are sitting, glued to our computer screens
But we need a buddy to take care of our eye sight as well
So what DARK READER does is that it switch the screen into dark mode to reduce the eye strain
It works on most of the platforms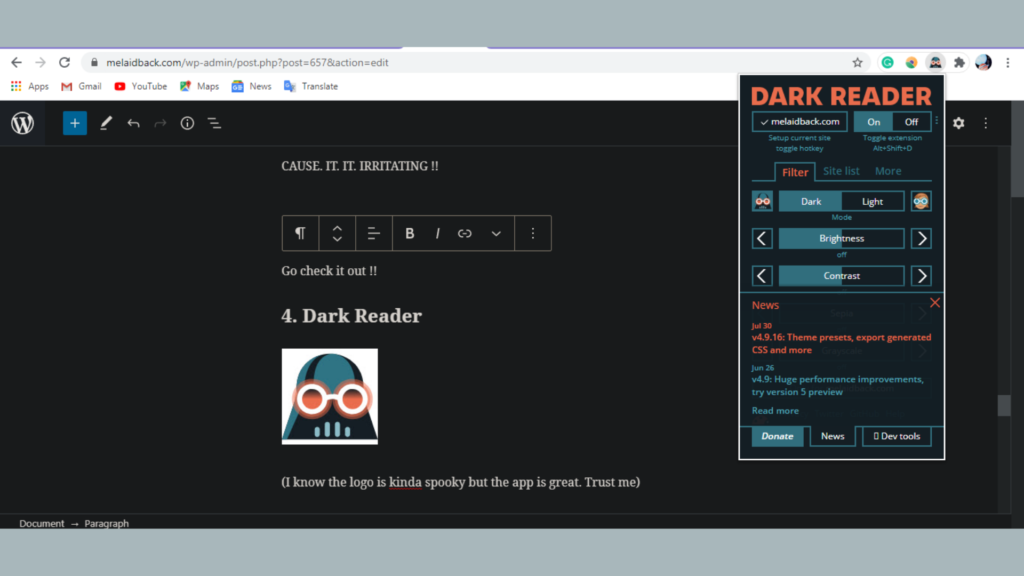 And is definitely a little treat for our eyes, cause they work tooooooo hard
5. Forest app
This is a free chrome extension that helps you stay focused in its own unique way
So you plant a tree and set the timing. During this time, it will make sure you dont get distracted
It will do this by Blocking the Apps specified by you or will block everything but apps specified
and if you VISIT THOSE APPS
Your tree will die
So your whole goal is to make a forest full of fully grown healthy trees !!
SUCH AN INNOVATIVE IDEA !!
SO THAT WAS ALL THAT PEOPLE !!!

I am planning to do a second version cause why not ??
WE HAVE A BUNCH OF APPS AND CHROME EXTENSIONS HERE !!
So see you around next time
Until then
Keep finding inspiration for studying (cause it is hard I know)