All the books I have read until now in 2020 !!
I am BACK
And I AM LATE
I was supposed to write this blog back in June-July (Mid year)
But As you can see I am late. But I think it is for the….good? cause I read a bunch of books between June and October which would have been left out in that wrap up
So…….. (that was a bit of myself trying to console ME that it is ok to be very very very late to a blog. But it doesn't matter! right ?)
So let's conclude that useless chit cat and start with the BOOKS !!
They are in no particular order. But I will try to put the books I read recently in the end and the books I read earlier this year in the beginning.
SO LEGGO !!!!
1. The Ash Princess series by Laura Sebastian
(actually, there is a third book in this series as well but I havent read it so did not put picture of that)
So
First up we have the Ash Princess series, a debut series by Laura Sebastian. In a nutshell, this book is about this "once was a" princess who was "once was about to become the queen" of her kingdom. But then her mother gets killed and now she has to live under the same roof as that of the people who killed her mother and her people. She is willing to go to extents to fulfil the task of her as the future queen of Astrea (The kingdom she is the queen of)
So this book was nice. There were like a bunch of unexpected twists and turns. But at one point it became a little monotonous and I felt the urge to skip a few pages. So when I read it, which was back in January, I quite enjoyed it and it became somewhat fav. But now that I have read more books, I give this book a 3.75 outta 5
Then I read the second part which Is Lady Smoke. I liked it. But it was a bit disappointing and sometimes unexpectedly good twists at some places.
But (SPOILER ALERT) The book ends with the MAIN villain getting killed in a very insignificant way, and the book is not even making a big deal out of it.
I mean come on, as big of a cliché it is to have the hero kill a villain, it was the practical necessity of the whole story
But well
Maybe something happened in the THIRD BOOK , which unfortunately I didnt get around to read
But whatever this series was great for binge reading
So recommended for people who like fantasy worlds, with bits of twists and a ton of politics
Now onto the next book
2. Eliza and her monsters by Francesca Zapia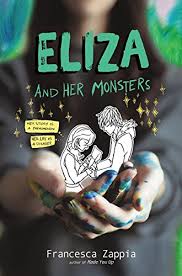 This book is a fiction contemporary and was hyped up pretty much whole 2017-18 and even 19
What is it about ?
Ths book is about a girl named Eliza who is this anonymous creator of a VERRRY famous web comic named Monstrous sea.
So she has this popular anonymous life online but she is total opposite offline. She has no friends, no offline life and she barely gets out of her room. Then one day, her paths cross with THE MOST POPULAR fan-fic writer OF HER WEBCOMI and then the story goes on
It is a pretty interesting story. It is contemporary so there aren't any crazy twists and turns. Some things can be expected pre hand. But still it was an enjoyable read. I read it like months ago and might not be able to give an accurate review.
But ya that is what it gets. A nice, gripping, good, light, piece of cake story
I gave it a 4 outta 5
Next please
3. House of Salt and Sorrows by Erin A Craig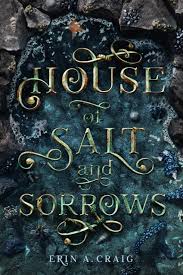 This is a spooky retelling of the famous "The twelve Dancing Princesses" story. One thing is clear. I love retellings and re-imagining of any old classic story.
And this one was spooky
So GREAT !!
To Be Honest, I am a big chicken and till now in my life I havent watched A SINGLE HORROR FILM
Yup
Right
You heard it
So I was a but reluctant before picking up this book, but then, I read it, and I LOVED it
There are so many things that at a point you just don't know who t believe any more and you look everyone through the eyes of suspicion. And that is what makes this book unique
There are still a few things I would like to point out
1st is that the emotions were quite out of place. I mean it was horror but there was a tint of romancy things which I didnt like.
2nd the end wasn't that clear. The reason can be that this was standalone and to pack all of the elements in one book is a bit hard. But still, the ending just paced through which wasn't exactly interesting
But other than that, this book got me goosebumps and it is the PERFECT book to read this time of the year.
So I gave this book a 4/5
Next.
4. The Joy Luck Club by Amy Tan
Well well I have a whole blog dedicated to this book so better go and read that one. Click here to read !!
5. Children of Blood and Bone by Tomi Adeyemi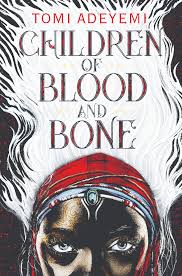 This book is sort of Similar to the first book series I talked about, the ash princess.
At least the base plot is similar. Both the main protagonists have lost their mothers to the enemies and they want to bring their power and people back. In Children of Blood and Bone, their magic has sort of disappeared or you can say suppressed by a separate set of people Now one day unexpectedly, she and her brother u into the King's (basically the enemies) daughter who has run away from the palace due to a "reason" that I won't tell, so read the book to find out. But yah, so The main protagonist Zelie, with her brother and the king's daughter are off to find the mysteries and bring back magic
Sounds a bit hoch poch
But trust me
This book is fantastic !!
It is so gripping and the characters qualities are reflected well. these are some of the characters which will always be in your mind
So I gave this book a 4/5
---
This is becoming quite a big one
So NEXT WEEK I WILL BE WRITING PART 2 OF THIS WITH MORE BOOKS I READ THIS YEAR !!!
I hope you enjoyed reading and…..
Meet you next week
Until then
TA-TA!!! (P.S I was wondering to start a sort of new segment where I will cover new "gossip" and "other issues" that is surrounding the KPOP world (cause I cannot leave KPOP behind 🙂
Lemme know
BYEEEE