Technically, this year has already aged by 5 months, but you need to make adjustments in your head because I couldn't afford to be creative for the title.
I am finally a sophomore in High school and I wish it was as beautiful as the term itself. Not so surprisingly, it isn't the academics that is bothering me. It's simply the FACT that I AM A SOPHOMORE that keeps tickling my consciousness whenever my brain sits still. Nevertheless, looking at the plenty of overthinkers around me, I am feeling that PERHAPS I am much more in control than I give myself credit for. Either way it isn't bothering me is it?
So to give this academic year a fresh start, I first HAD to go somewhere FRESH. Half of my brain cells were damaged due to daily consumption of the oh-so-contaminated air. And living in northern India, you don't have to think twice before packing your bags because MI AMOR! You have SHIMLA grinning in front of your eyes
So my dad, without even asking us, [very well knowing that if he even begins by entertaining our opinions, we would manage to reach Shimla only after dinosaurs rekindle] booked our train tickets and by the next week, we were on the train, sitting by the window, looking forward to a fully unplanned trip.
Our train didn't drop us directly at Shimla but at Kalka. Kalka is the nearest railway station to most of the hill stations around Shimla, like Kufri, Mashobra, Chail etc.
Upon reaching Kalka, we were greeted by this very small and adorable Railway station, to which my eyes couldn't acclimatise as it wasn't used to seeing such minimal dirt and crowd in railway stations.
I thought we were finally there but nopes! 4 hours more in a cab was what got us to our first, and ONLY fixed destination, our hotel in Shimla
It was not too fancy from the outside, similar to many other hotels in the locality. But when we entered our room….lo and behold, the enchanting view of the green valley was glistening perfectly against the afternoon sunlight, something our city eyes have been deprived of for ages.
So the whole afternoon was spent recovering from exhaustion, and when evening struck, we got up and made our way to Mall Road, the most iconic location in Shimla, bearer of travellers, photographers and film directors from all over the country.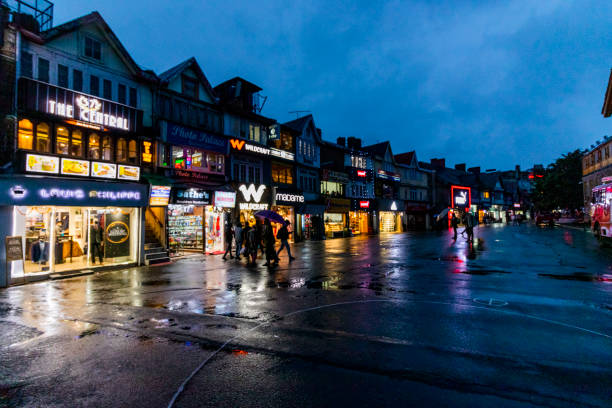 This was on top of my bucket list because I had seen multiple videos of this calm and comforting street. I love walking and also like crowds, on the condition that the crowd should only consist of HUMANS and not 10 other types of organisms crawling in and out from every other corner
Thankfully my nightmare didn't come true and we reached mall road through a flight of stairs located some metres away from our hotel.
And then, what was left? we walked where our feet took us and were amazed by the serenity mixed with the slight bustle of the streets. Mall road is connected to every road possible in Shimla. So wherever you are, after some walking, you will find yourself standing yet again in Mall road. Therefore you can't help but visit it every day. But it is worth it!
With all that walking added to the previous weariness, it was time to fill our stomachs. We didn't do any research work so we were simply looking for a place that looked nice enough to eat. As we reached the corner of the roads, we spotted our 1ST Restaurant in Shimla- Cafe 1873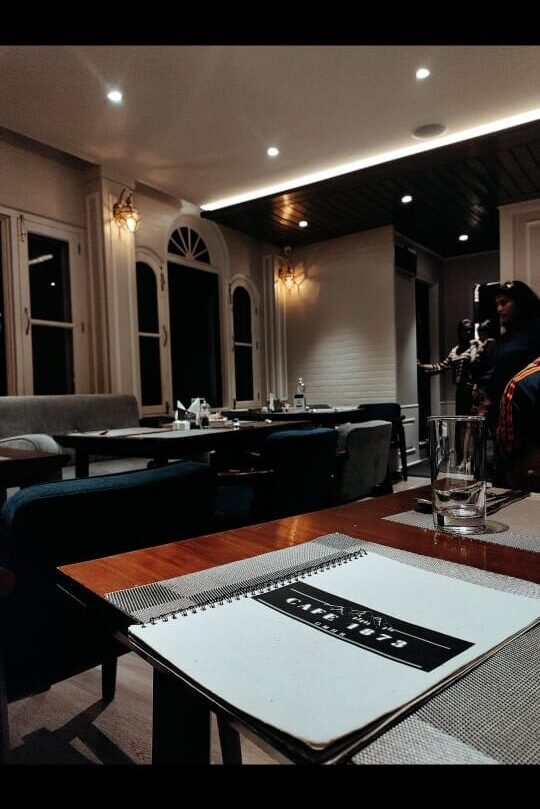 I would solely like to give full credit to this restaurant for kickstarting our trip into an amazing one. Food, how insignificant it may seem, actually holds the power to change the perspective of the whole place. And this underrated gem situated in the Lower Bazar of Mall Road did justice to the "freshness" Shimla's cuisine has become synonymous with.
[Just a quick fact, it is EXTREMELY difficult to find authentic Himachali food even in the lap of Himachal itself. I have heard people say that this might be due to the extreme laidback culture of the locals here, who don't show any inquisitiveness towards such activities. How interesting!]
That is how we ended our first day. Onto the next
Our morning started with a Breakfast place I chose. Shimla is known for its variety of unique cafes and I wanted to explore the most I could during these 2-3 days. So I picked a very unique one, the highest cafe in Shimla, Cafe Under the tree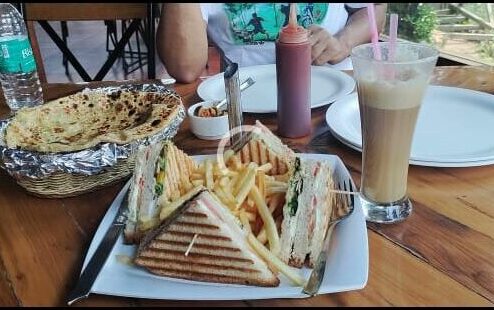 First look. WOW.
I wanna eat this VIEW. Sooooooo stunning!!
Whoever thought of this idea, man, bless you
We got a classic club sandwich, fries, PARANTHAS because which morning is spent WITHOUT having buttered paranthas, coffee for me and masala tea for my parents. And yet again, Shimla didn't fail to impress us. The food was remarkable. Sandwiches, although seem like a simple dish, are hard to master. And this sandwich I had, was MASTERED
After filling our stomachs, we visited the famous Jakhu temple and spent some time there.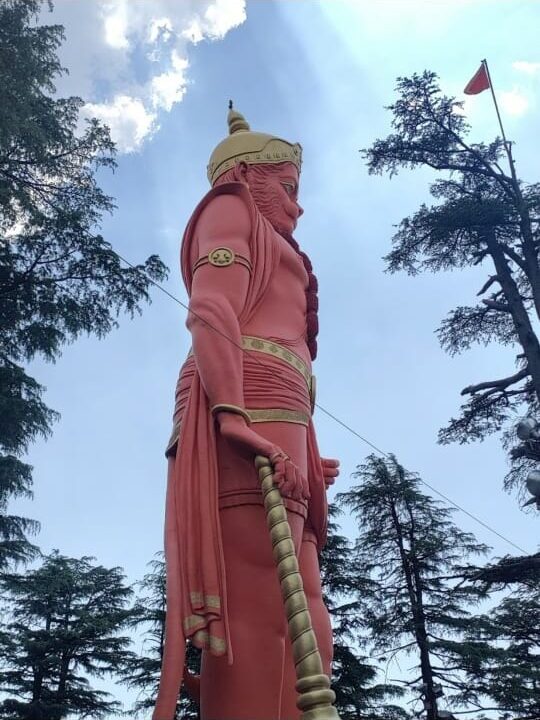 This statue was SO huge and It is the highest object in Shimla and can be viewed from every corner of Shimla. Simply elysian
From here, we started what is going to be the most memorable memory from this trip, walking.
Yes. Just…walking.
We chose to go down from the hill with our feet and oh boy, our knees. This isn't talked about but coming down from a hill is even more dreadful than climbing up. The torcher my family's knees collectively had to stand is pitiful. Nevertheless, we managed to come down and walk even more.
And then we walked more
Then we stopped, bought a bottle of sprite and continued our journey
Our destination was the Indian Institute of Advanced Study. This Institute, established in 1965, was set up by the Ministry of Education, Government of India and started functioning at Shimla on 20th October 1965 when it was formally inaugurated by the then President of India, Professor S.Radhakrishnan.
This place was dripping with royalty. I had only seen pictures like these but to witness the richness with my own eyes, to stand on the velvet red carpet, everything about the experience was surreal.
Can you believe we have SUCH a place??? In REAL life. I cannot tell you how dreamlike the whole area, even outside the mansion, was. My only remark will be this: You HAVE to visit this.
After spending a good 2-3 hours there, our stomachs empty yet again, made us go back to the Mall road. And as if God heard me, it started to rain.
And there is no comparison to the beauty of Shimla when it rains
We quickly went inside this very "local's favourite" cafe, called Indian Coffee House
and first time
I was disappointed.
The ambience was simply bad. Compared to how hyped it is, the maintenance was not up to mark. The 2 things we got, coffee and paneer pakoda didn't cut for us. So nothing much to say.
After this very long and tiring day, we went back to our hotel (had cream roll on the way) and stayed there for dinner as well, where we had yummy yummy chicken on the third day
Day 3 was dedicated to a tour of KUFRI.
1st stop was Kufri adventure park. I did Go-Kart for the first time and happily ticked it off my bucket list. I have wanted to do go-kart riding since I saw it in a movie LONNG back (plus also because I "worship" cars but am too young to drive one. So it would fulfil that fantasy)
So there, in went I inside one of those mini cars and ZOOOOOOOOOOOOOOOOOOOOM!!!!!!!
HAD THE MOST EXHILARATING EXPERIENCE OF MY EXISTENCE!!!
I had 6 rounds and with each round, I got more confident and it was expressed through the accelerating vehicle. Well, the adrenaline-packed me headed for the next even MORE terrifyingly thrilling activity- HORSE RIDING.
And it wasn't just ANY horse riding. This horse riding was on a narrow uphill trail with a deep ditch on one side. And that ditch still gives me nightmares because the horses were trained in such a way, that they would randomly trot towards the extreme corner, give us the fright of our life, and then regain back the original position. This venture is so firmly embedded in my brain that while writing this, I am getting chills all over my body.
But that was that
[P.S I wanna mention that the horses were oddly clean for a place like that muddy hill. Plus all of them had cute hairstyles with bangs and it made me go awww]
That was the 3rd day and we ate something back at Mall road and had the best eclair one could ever have at Krishna Bakery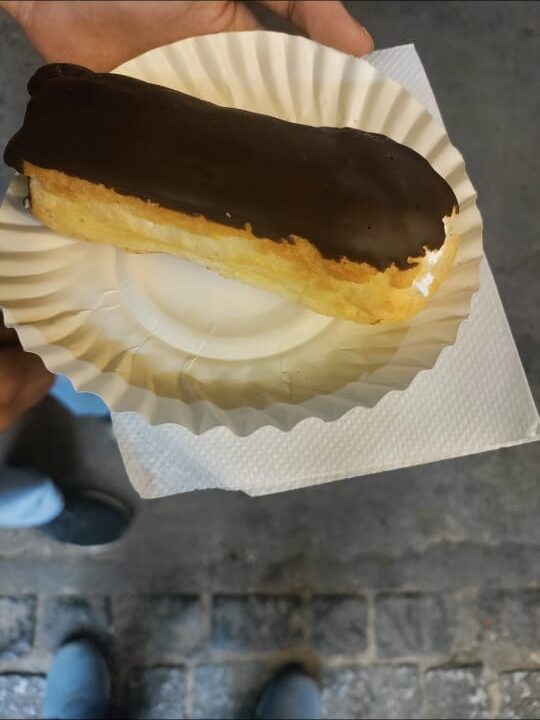 Cut to Day 4
The day to go back finally came and I was so not ready. Not at all
But our return trip was made better when my dad announced that he had managed to get seats in the TOY TRAIN!!!
The toy train is a small cute train that covers the distance between Shimla and Kalka. It goes through 102 tunnels and 18 stations. Tunnel number 33 is supposedly haunted, though nothing happened, much to my disappointment, and the 18 stopovers are these cute tiny stations which will make that adorable corner of your heart swell.
The element that makes the toy train so appealing is the lush greenery and nature-filled route of this train. It is a toy train so the windows can be opened for you to get an even more first-hand experience.
And that is how we reached Kalka, and then took another train to reach back home
End of a perfect vacation.
: )
---
This was my take on a travel blog. Must be messy as I wanted to include every single detail here, even then I am sure I must have missed a bunch of things. But I hope the amount I presented was enjoyable to read and you too were able to have a sneak peek of Shimla
So See you next time
Until then
TA-TA