Tripping again amongst greens
I went to Nainital last week
Some background light on Nainital, it is a resort town in the Kumaon region of Uttarakhand, a state in northern India. Discovered during the colonial rule in 1841, it was used as the capital of United province.
Nainital is if not, the most tourist-dense hill station in India and there really, isn't any OFF-season concept here.
Why?
Because I went here in a supposed off-season period and met with THE WHOLE POPULATION OF INDIA in every spot I went to. But did it ruin my voyaging in Nainital? Continue reading for that.
DAY 1 [Reaching Nainital]
Taking a super early morning train, we reached Kathgodam at around 12 in the afternoon, took a cab, and drove straight to our stay. The Kathgodam railway station was this small, cozy, peaceful station (not AS peaceful on a busy day but I could make out how it would appear on a clear day.)
Amongst the bustling crowd, only the fortunate ones could make their way to the taxi booth and book a cab. Our fortune, although late, came and drove us to our hotel. And when I say this place was ISOLATED
Isolated in a good way at least. The view was everything, the first glimpse of which we got from our rooftop lunch experience.
After that some rest, some chatting and in the early bit of evening, we were off to NAINITAL, our main destination. The obvious attractions were THE MALL ROAD and NAINI LAKE.
First impression of Mall road was, well, CROWDED. 2nd impression on the second day was way better but we will come later to that.
The sunset rays penetrating the aqua waters of Naini lake was what instantly made my visit worth it. Nestled between hundreds of shops and a crowd of thousands, only the lake was what could provide essence of the ACTUAL Nainital, famous for its serenity and stilness.
We walked half the distance of the road, adjacent to the lake and reached the infamous BOAT CLUB of Nainital, and took a boat to row around in the lake. The timing was PERFECT as the sun was just meting beneath the still water, and the crowd which seemed like an appropriate background, helped to make the view even better.
The ride was fun and after hopping off, we began looking for a place to eat. BUT
BUT
But my stationery-hungry eyes managed to find this old and unpromising Gifts shop which, upon entering, took all of my left breath away. I saw huge walls with numerous shelves, sharing sneak peeks into the Britsh period and British aesthetics, stacked with more art and craft supplies I have ever seen in one place.
I can simply imagine an ACTUAL artist's reaction upon seeing all this gold in front of them. Unmatchable.
Then was the time to fill our greedy stomachs. And OH LORD, when I say we hade "options". Well, we had options but stuck to the classic "challi", or boiled spicy corn. Can never go wrong
The next eatery was totally initiated due to the sudden drop in temperature. Cord breezes, one hand in the pocket and the other holding a cup of hot chocolate, immaculate vision isn't it?
So in order to fulfil this vision, I got a cup of HOT hot chocolate and………BURNED MY TASTE BUDS FOR THE REST OF THE TRIP
Nevertheless, the burn kept reminding me of the heavenly coffee throughout the voyage.
Dinner was at some nice rated restaurant but we ended up not liking it, so no more talking about that.
DAY 2 [Mukteshwar]
Mukteshwar is one of the common destinations people plan to visit from Nainital. It is at a higher altitude so definitely chillier. But our unplanned dumb selves thought it would be cool to show off our arms at 14°C
1st Stop: Golu Devta Temple
This wasn't in our itinerary but the HUNDREDS of bells, with a super diverse shape and size range couldn't be ignored.
The place was again, CROWDED. But we managed to get prasad and blessings and made our way to the 2nd stop
2nd Stop: Shyamkjet Tea Garden
My last memory of visiting a tea garden is nebulous, but this visit gave me deja vu, for sure. Area for visitors wasn't much but the picturesque view coudnt be hidden. After taking some very GREEN pictures, we took off to visit the third location
3rd Stop: Nainital Apple garden estate
Probably the highlight of my trip
Let me remind you once more, the temperature is dropping every minute and there are chances of incoming rain. Along with this, pre-monsoon mists are forming around mountains and one such mountain is what we will be climbing
in search of
free
APPLESSSSSSS!!!!!!!!
But the casual hike turned into FEAR FACTOR when we realised we will have to climb A LOT to ACTUALLY get apples. The trees at the initial stage of the mountain were ripped off any sign of apples.
But, free apples. How can we miss such an opportunity?
So we went trekking on mushy and marshy and wet soil, just to return with 3 apples. But never mind, efforts ought to be counted. So let's make it 15 apples
Upon returning, I refreshed myself even further with a glass of truly fresh apple juice. The taste, IMPECCABLE!
Returning to Nainital for Dinner, we were met with the most irritating traffic Jam ever. I will again refer to what I said, how can an OFF-SEASON period be so packed!?
But writhing through the jam, we finally managed to cover a distance of 1 Km in 1 Hour.
We made our way to the most popular eatery on Mall Road, Nainital, and that is Cafe Lakeside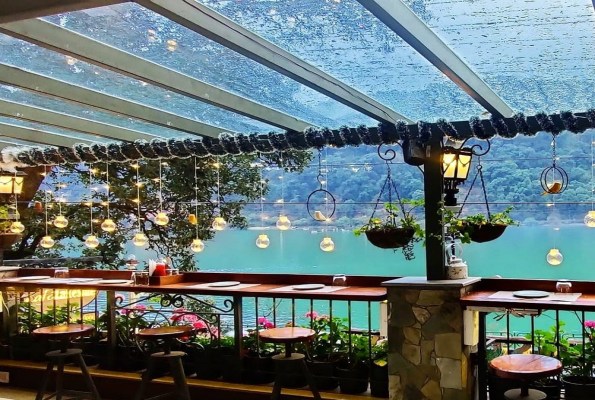 This stunning eatery can be found a few metres from The Mall road entry point. If somehow you aren't able to locate the dazzling sign board, look for a place with a crowded balcony overlooking the lake. Found it? Then you have reached the right place!!
We luckily arrived just before the busting dinner time and ordered three lip-smacking dishes. For starters, our pick was garlic chilli chicken, classic, cannot go wrong. But the chicken was……..perfect! In all the chicken-y ways possible. Even my "not-so-Chinese-loving" family devoured it in minutes.
(Sorry no pic for it!! Hunger won over patience)
The main course had to be their pizza.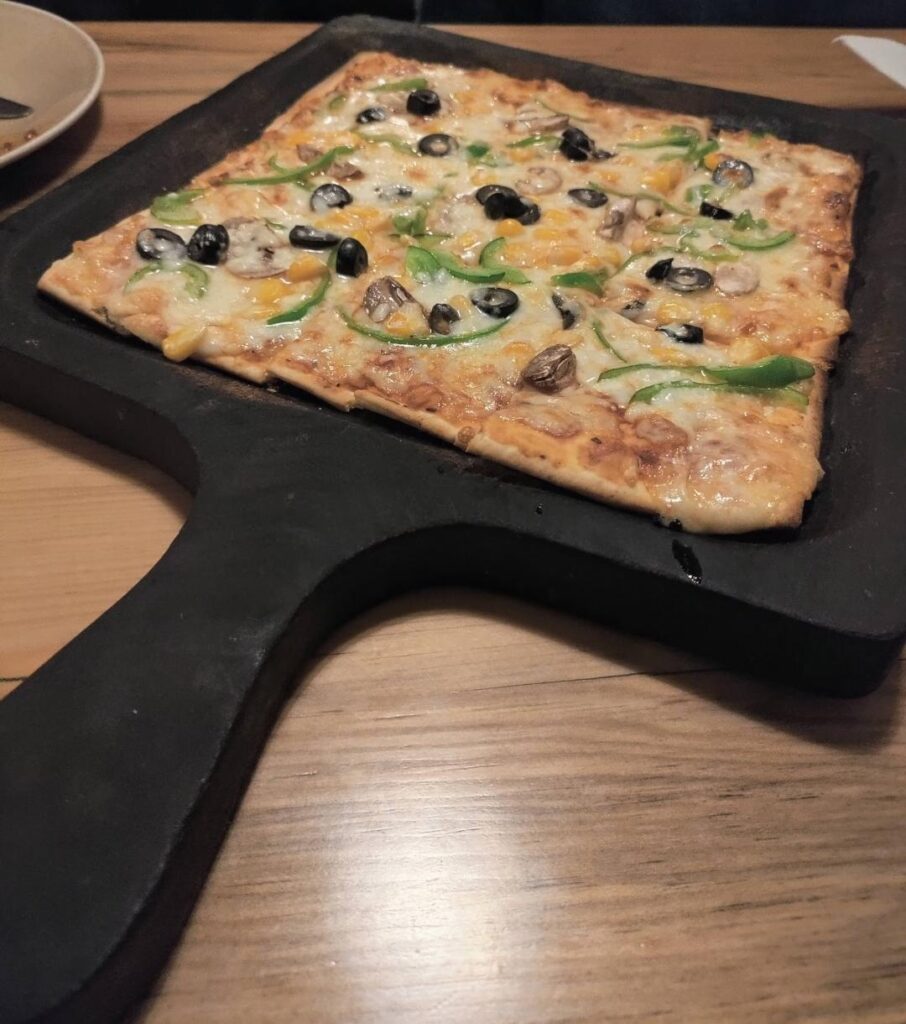 And the desert was this Hot and Cold Brownie Sundae
(*insert tongue emoji)
And that is how our 2nd day ended
Day 3 [Returning]
Day 3 was simply returning so no fun nick-nacks to share. Although I have to say, the train rides must be given special mention because THE comfort is really not available in another medium.
---
This is it for today's post. I had procrastinated enough but thanks to mumma's nagging, I finally posted it.
Hope atleast some portion of all the fun could reach to you 🙂
Until Next Time
TA-TA!